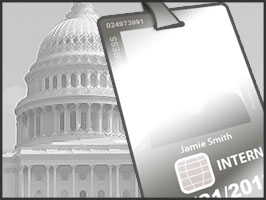 It's eerily quiet her at the capitol building. Except for Rep. Sean Duffy who has been sitting cross-legged in the Rotunda every day teaching himself the chords to "Call Me Maybe" on his guitar. He is one of several freshmen congressmen who have vowed to sleep in their offices instead spend some of their $174,000 annual salary on a second home in DC. Why he hasn't gone home to Wisconsin, I don't know. The acoustics in the in Rotunda are pretty awesome, I guess.
What Congressmen Duffy should do is follow the lead of our most experienced lawmakers: Go home and create jobs!
47% of Congressmen and Senators are MILLIONAIRES – and they take their summer break seriously. Over the next 5 weeks they will go back to their home states and put some of that government paycheck back into the economy. The private golf courses alone will benefit from an influx of business from lawmakers who will create a need for more golf caddies, valets, wait staff, and loiterers (tasked with discreetly kicking balls further down the green.)
Some our nations finest will be boosting the economy in very unique ways.
House Minority Leader, Nancy Pelosi (boasting a net worth of 35 million.) plans to build a 1:1 scale replica of the House Senate Chamber on the grounds of her home in San Francisco where she will serve as "Speaker of the House" (again). Local townsfolk will be hired as House Members and all Democratic sponsored bills will be passed unanimously. First up with be the Farm Bill and Pelosi family gardener, Rico, will the first beneficiary. He will finally be able to hire his nephew Jacob.
The real Speaker, John Boehner, isn't nearly as wealthy as Pelosi (doesn't even crack the top 50), but that won't curb this part-Irish (really) Congressman from contributing to the Cincinnati tanning salon industry, which boasts an estimated 600% increase in business every August.
The state that is home to the largest number of millionaires working in Congress is Texas. This year, as in past years, there will a noticeable increase in staff at Convertible Cadillac dealerships.
On the flipside, Washington DC itself will suffer horribly this month as many area businesses will layoff workers as the capitol goes dormant.
Even the lobbyists leave town, since there's no one around to lobby to. I did see one lobbyist here just yesterday but he only stayed long enough to join Congressmen Duffy in a chorus of "Call Me, Maybe". Then he said he would call him later, maybe.